Rejuvenate Body & Mind With
Therapeutic Massage & Reflexology 
Do you have an aching back, general body tension or just need some "time~out"?
You can choose from a selection of Therapeutic Massage and Reflexology treatments below with the assurance that each treatment is carefully tailored to suit your needs.
A warm and cosy treatment room awaits you with soft, clean towels, heated therapy table and now using a blend of  warm essential oils renowned for their pain reducing and relaxation properties.
This massage can be helpful in alleviating excessive muscle tension of the lower back, the shoulders and neck. Therapeutic massage works on a deeper level than a relaxation massage to help relax tight bands of muscle fibres as well as helping improve fluidity of movement, boosting blood flow, encouraging lymph flow (our body's natural defence system and improving nerve functioning.
Lots of my clients say they feel  lighter, flexible and even more relaxed following their massage.
Therapeutic Back, Neck & Shoulder Massage
£45 (Allow 60 mins)    Course of 6 £225 (save £45)
---
Neck & Shoulder Massage
£45 (Allow 60 mins)    Course of 6 £225 (save £45)
As above but concentrating on just the upper back, neck and shoulders to relax sore, taut muscles.
---
Aromatherapy Full Body Massage for Women
Aromatherapy combines soothing massage with a blend of pure essential oils chosen especially for your needs. Aromatherapy can help with back pain, general body pain, chronic fatigue, headaches, digestive issues, hormonal imbalance, high stress levels and depression as well as promoting restful, restorative sleep. The aroma of the oils can have a calming effect on areas of the brain responsible for processing emotions and emotional behaviour. A total body and mind experience!
£50 (Allow 75 mins)
---
Indian Head Massage
Tension in the muscles of the upper back, neck and shoulders can sometimes be the cause of headaches and migraines.  This massage focuses on the shoulders, neck, scalp and face, helping to relax taut, stiff muscles, improve blood and lymph flow and increase fluidity of movement. Other welcome health benefits of Indian head massage is the release of nervous  tension  and calming of an overthinking mind thus helping promote a deep and restful sleep. And don't worry, I don't use oils on your scalp so you wont be leaving looking "oily".
£45 (Allow 60 mins)
---
Deluxe Package
This is for you if one hour just isn't enough or when life gets tough and you need a little "time~out". Simply combine any of the treatments on this page to create your own highly tailored, rejuvenating experience or allow me to help you choose depending on how you are feeling.
£85 (Allow 120 mins)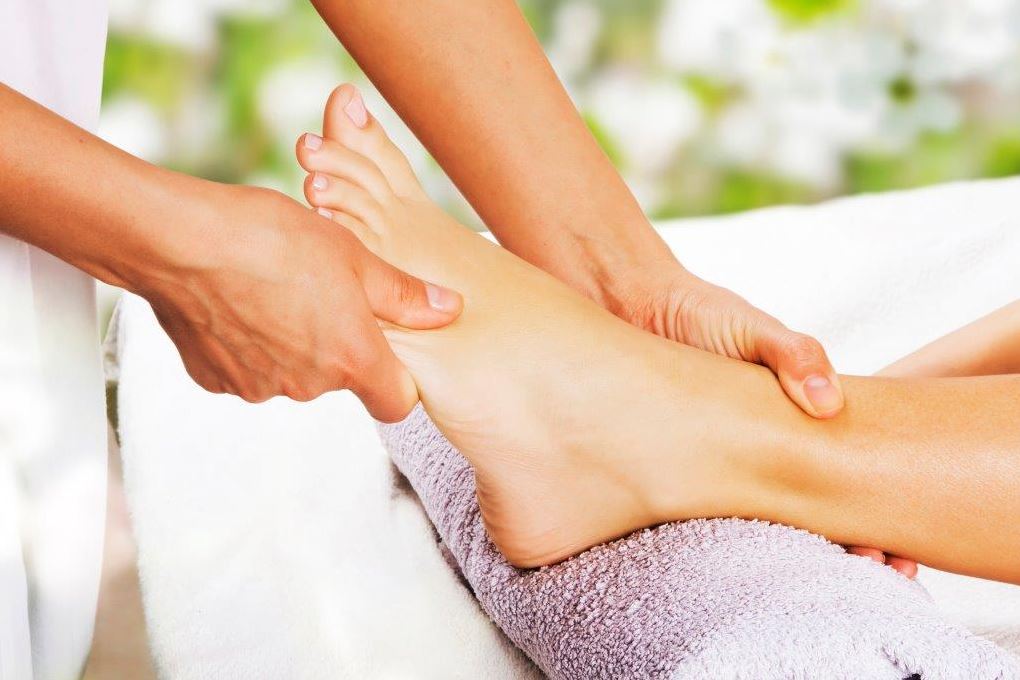 Reflexology With Rejuvenating Lower Leg & Foot Massage
Reflexology works through the feet to access the whole body. Skilled hands apply pressure to specific points located on the feet which correspond to all the major organs, glands, cells and systems within. This non~invasive therapy does not claim to cure, instead aims to to facilitate internal balance thus maximising the body's own potential for healing. This helps promote physical, mental and emotional health and wellness.
Feel even more relaxed with a luxurious lower leg and foot massage to follow your reflexology session. This helps rejuvenate tired, aching legs and feet…and leave you feeling like you are walking on air!
£45 (Allow 75 mins) Course of 6 £225 (save £45)
---
Reflexology with Back Massage
A perfect partnership. Unwind with a soothing back, neck and shoulder massage before relaxing into your reflexology session. Head to toe bliss!
£60 (Allow 90 mins)