Natural Health & Wellness
For Women
Reflexology & Massage Therapy

Are you in need of a relaxing treatment to help ease pain reduce stres

s?

Do you have a sore, stiff back from sitting at the computer desk all day?

Or, perhaps you feel low in energy and want to feel well again.
How I Can Help You
Hi, my name is Julie; I'm a Natural Health Practitioner with over 12 years of experience specialising in reflexology and massage therapy for women of all ages.
I have a comfortable and professional home-based therapy room close to Lisburn City Centre. Each treatment is tailored to each individual, ensuring you receive bespoke service.
---
Arrange a FREE consultation
Book an appointment
Call: 079222 74412
---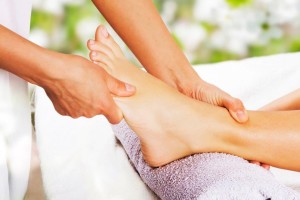 Reflexology is a natural therapy that works through the feet to access the whole body. The skilled hands of your therapist apply pressure to precise points on the feet (mainly the soles) which correspond to all the major organs, glands, cells, and systems within.
This non-invasive therapy does not claim to cure; instead, it facilitates internal balance and functioning, thus maximizing the body's own potential for healing. For more info click here
---
Modern life can be stressful, affecting us physically, mentally, and emotionally.
Increasingly women are turning to massage therapy for medical reasons such as back pain and tension headaches and an effective solution to stress. For more info click here
I am qualified In:
Reflexology (level 3)

Therapeutic Massage

Advanced Massage Techniques

Aromatherapy 

Indian Head Massage 

Anatomy & Physiology 
Recent reviews…
"Would 100% recommend Julie, first of all, she is amazing at her job, also a really friendly warm person who makes you feel at ease. Every time I come out of the treatment I feel revitalised and refreshed. I have polycystic ovary syndrome and it has really helped in regards to stress and energy levels. I would encourage anyone to book in with her". Emma Louise
"I was with Julie recently and her treatment room is amazing, her hygiene is second to none and I really enjoyed my treatments. Looking forward to going back soon". Glynis Jess
"I couldn't recommend Julie enough, was so welcoming as soon as I entered and I had been suffering from a bad back, neck, and shoulder pain for weeks and one session with Julie and I feel like I have a completely new body, can't wait to go again"!!  Katelyn Millar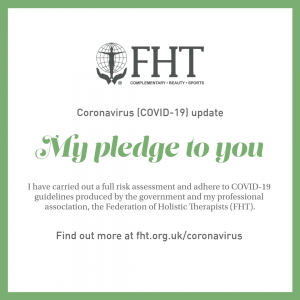 Covid-19 Pre-Treatment Questionnaire
Member of the Federation of Holistic Therapists