Please read through these questions carefully 24 hours before arriving for your appointment. Your co-operation is much appreciated. Julie.
Q. Do you currently have Covid-19 or any symptoms of Covid-19?  Please defer your treatment if you have;   
recently been tested positive for COVID-19, or you are

waiting for a COVID-19 result

difficulty breathing, or

shortness of breath

loss of speech or movement

a high temperature

a continuous new dry cough

a loss or change of smell or taste

less common symptoms such as a rash, aches & pains, diarrhoea, headache, conjunctivitis, sore throat
Q. Have you had COVID-19 or tested positive for Covid-19? If yes, have you had any medical treatment or been hospitalized? You will need to seek consent from your doctor or consultant before treatment. 
Q. Does anyone in your household or support bubble have Covid-19 or symptoms of  COVID-19? If yes, please defer treatment until it is safe to do so.
Q. Have you been in close contact with anyone outside of your household/bubble in the past 10 days who has symptoms of Covid-19? If yes, defer your treatment until it is safe to do so, unless you have been wearing medical-grade PPE (NHS and other healthcare professionals).
Q. Have you been in close contact with anyone in the past 14 days who has been contacted by the NHS test and trace service and told to self-isolate? If Yes, defer treatment until it is safe to go ahead.
Q. Are you classed as clinically extremely vulnerable? If you answer yes and you meet the government's definition of someone who is clinically extremely vulnerable (high risk), please defer treatment. If you are unsure if you are clinically extremely vulnerable, refer to the NHS website at www.nhs.uk). 
Q. Check your temperature on the morning of your visit. If it is higher than usual or you have any other symptoms contact me to defer your treatment. Ensure that you follow all new procedures explained to you by your therapist, prior to treatment.
---
I have carried out a full risk assessment and adhere to Covid-19 policies produced by the government and their professional association, the Federation of Holistic Therapists (FHT.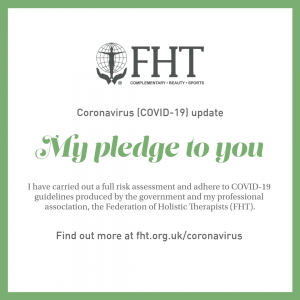 Please note that if your therapist develops symptoms of Covid-19 and tests positive for the virus your contact details may be shared with NHS test and trace (in line with GDPR/data protection), to help minimize the transmission of Covid-19 and support public health and safety. 
---
What To Do Prior To Your Appointment
I endeavor to make your visit as safe and as comfortable as possible while providing the same high-quality treatments in our "new normal." There are just a few changes to be aware of, so you know correctly what to do and what to expect when you arrive. 
Arrive approx 10 minutes before your appointment (if possible). If you are late, this may reduce your allocated treatment time. This stricter schedule allows for cleaning and infection control between client visits.

Please come along on your own as there is no allocated waiting area. 

Wear a clean face mask on arrival. A mask will be provided free of charge in the event you don't have one with you. If part of your treatment requires you to lie on your front on the therapy table, you won't need to wear a mask during this stage. You should wear your mask at all other times (unless you are

medically exempt).

Bring a bottle of water with you.

Bring as little as possible with you. You can place your belongings (coat, bag, mobile phone, etc.) into a plastic box in the therapy room.  

Hand sanitizers are available when you arrive and leave the premises.

 
Payment
I accept cash (place the correct amount inside an envelope or small plastic bag). I also accept debit/credit card payments (all major cards accepted).
Cancellation Policy 
If treatment is cancelled or deferred at short notice because my client has COVID-19 or has symptoms of COVID-19, any standard cancellation fees will be waivered. The client will be asked to kindly confirm in writing that their appointment has been cancelled or deferred because they have COVID-19 or symptoms of COVID-19.
I am looking forward to seeing you!
Julie.