Easy Ways To Buy Your Voucher. Call & Collect. Have It Posted. Use Our Easy PayPal Button.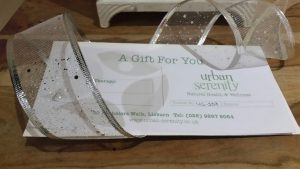 Treat Someone Special With The Gift Of
Pain Relief & Relaxation
All you need to do is choose a treatment/s for your recipient or simply add a monetary value. I'm here if you need any help at all with choosing. A brochure with all available treatments and contact information will be alongside the voucher
Vouchers are valid for 6 months from date of purchase.
From as little as £25.
Easy ways to purchase: Call by in person and pick up your voucher right away.
Call and pay over the phone and your voucher will be posted same day. All major credit cards accepted.
Use our easy PayPal button to purchase online.
Call 02892 678 064 if you need any advice. Vouchers posted same day to either you or your recipient.